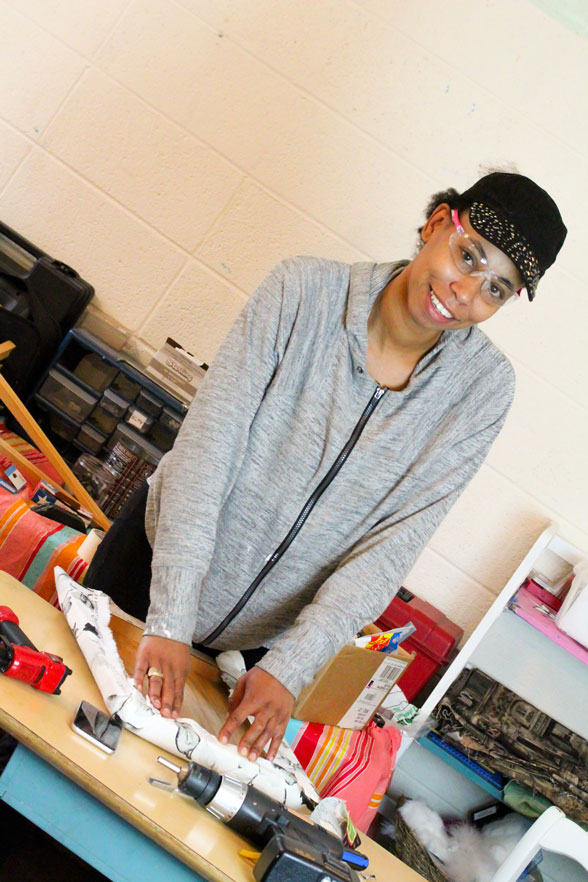 Revisiting with Christina
I'm interviewing and working with our associate Christina, who's been at Wooden It Be Lovely for about four months. We introduced her in a previous post and wanted to give everyone a chance to get to know her a little better, read about her goals and what her experience has been like with WIBL. Anddd her birthday is this Saturday!
It's the middle of October, and the paint studio is in full swing, pre-sale production mode. Thursdays are our slowest day in the upstairs of DAUMC, but a few of the associates and a volunteer are still diligently painting, making sure to converse and enjoy each other's company along the way.
Christina is back and forth between the finished piece room and the paint studio, collaborating with our lead designer Megan to make decisions about which fabric patterns to use. I catch up with her in our "finished" room during the upholstering process, standing in front of her on a chair with my camera & studio lighting. She adjusts her sparkly hat, gets my confirmation that her hair looks perfect, secures her pink safely glasses and gets to work. Usually people are reluctant to have their picture taken. Even though an impromptu photoshoot probably didn't make her bucket list for the day, I can't tell. She's such a sport about the whole thing, pausing here & there so that I can get a good shot, smiling, keeping the conversation rolling and doing her job all at the same time. I'm thoroughly impressed with her great attitude & warm personality, making my task of photographing & interviewing a breeze.
WIBL: How long have you been at WIBL?
CHRISTINA: I think that I started in May.
W: How are you liking Wooden it be lovely, whats the best part about working there?
C: The people, you know...everybody's friendly. I love to upholster, that's my new favorite thing. I love to figure out new ideas we're gonna use for new projects, that we'll paint for the next sale. Overall the whole program.
W: The director told me that you want to go to LPN School, tell me about that:
C: RN or LPN, haven't decided yet. But Sarah my mentor is helping me fill out grant papers so that I can go back to school.
W: What are your goals for the next year?
C: I'm working on getting back on my feet, and saving some money so that the kids and I can move into a nicer apartment or a house, and to continue to heal.
A huge thanks to Christina for participating, and we're all wishing you the happiest of birthdays this year! You can see her and everything that she's been working on at our November 11th Fall-ing In Love Sale.